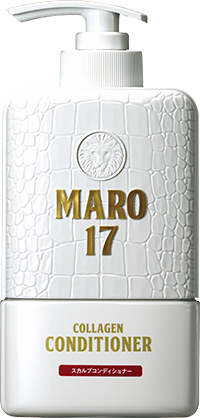 MARO17
COLLAGEN
SCALP CONDITIONER
Silicon Free
350mL
1,980yen
(without tax)
POINT
01

MARO17 is specially formulated with Capixyl*2, an innovative complex of biomimetic peptide to treat scalp problems.
02

Apply directly onto scalp after shampooing and gently massage to increase blood circulation! Helps to maintain the right moisture and oil balance in the scalp for the foundation of great hair.
03

Superb in-depth hydration effects of moisturizing properties such as collagen and hyaluronic acid improve health of your scalp and make nourishing essence easy to absorb into skin.
HOW TO USE
SHAMPOO

01

❶Gently wash away dirt and sebum from hair with lukewarm water before shampooing.
❷Apply a small amount of shampoo into the palm of your hand and lather up. Work the shampoo into your hair.
❸ Massage up and down your scalp. Rinse the hair thoroughly without leaving any residue behind.
CONDITIONER

02

❶Apply directly on your hair and scalp. Gently massage the conditioner into your hair and rinse thoroughly.
SCALP ESSENCE

03

❶Spray about 10 pumps into your hair and scalp after washing.

❷Massage essence into your hair and scalp.
❸Apply it on the entire hair for best results!!!