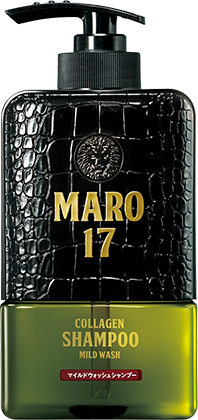 MARO17 COLLAGEN
SHAMPOO
MILD WASH
Silicon Free
350mL
1,980yen
(without tax)
POINT
01

MARO17 is specially formulated with Capixyl*2, an innovative complex of biomimetic peptide to treat scalp problems.
02

The most buzzed-about ingredient Defenscalp®*4 forms a rich lather to completely remove excess sebum and freshen up the scalp.
03

Super mild amino acid, a natural skin-friendly cleansing agent, gently exfoliate delicate, sensitive skin. Leaves scalp healthy and hydrated to create an optimal scalp environment for fuller, stronger hair
HOW TO USE
SHAMPOO

01

❶Gently wash away dirt and sebum from hair with lukewarm water before shampooing.
❷Apply a small amount of shampoo into the palm of your hand and lather up. Work the shampoo into your hair.
❸ Massage up and down your scalp. Rinse the hair thoroughly without leaving any residue behind.
CONDITIONER

02

❶Apply directly on your hair and scalp. Gently massage the conditioner into your hair and rinse thoroughly.
SCALP ESSENCE

03

❶Spray about 10 pumps into your hair and scalp after washing.

❷Massage essence into your hair and scalp.
❸Apply it on the entire hair for best results!!!